How to use email notifications
There are quite a few ways to configure email alerts on the forum.gfavip.com system.
When Someone Sends Me a Direct Message – when someone direct messages you on the forum, you can get an email to make sure you know to login and reply.
When someone "AT" (@) mentions me – this is when someone "tags" you in a post. It will alert you by email
Include previous replies in the bottom of emails – this is an option that will show you the other parts of the message in the email alert. I'd recommend turning it on, so you get more information in the email to understand the context.
Activity Summary – This is to get an email "digest" of activity in the forum. Choose from every 30 minutes, hourly, daily (default), weekly, every month, or every six months. So you get a digest of everything happening in the forum.
Mailing List mode – this is a way that overwrites activity summary, and is configured how you setup notifications.
Notifications Tab
Similar to Email – but more of an alerts in the browser when you are actively logged in to the forum. You can get alerts in your browser when there are new topics, based on tag and category.
Steps: How to turn on/ off email notifications?
Is there a way to get notifications anytime a new thread is started?
Want to stay up to date about the new posts in the private forum? No problem, go to your preferences and then email and notification settings. Read more here to see step by step instructions:
Turning on and off email notifications
Login to your forum.gfavip.com account
Click on your profile photo on the top left
Click on your username in the top left of the drop down menu box
Click on preferences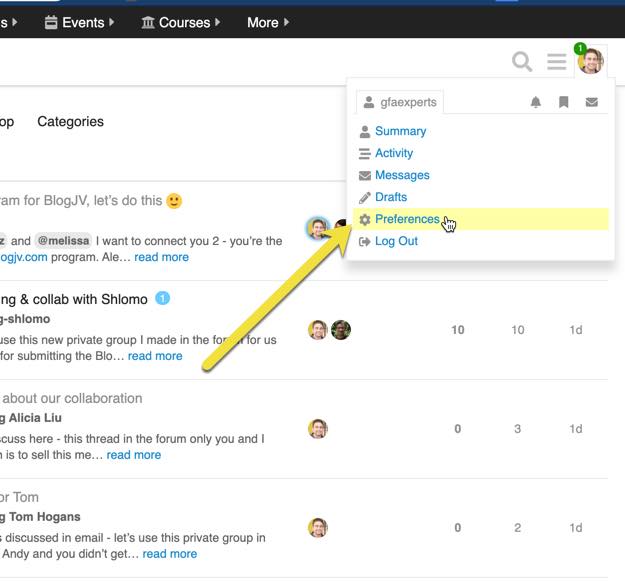 PART 1 of options: Click on Email
Here are the setting options for emails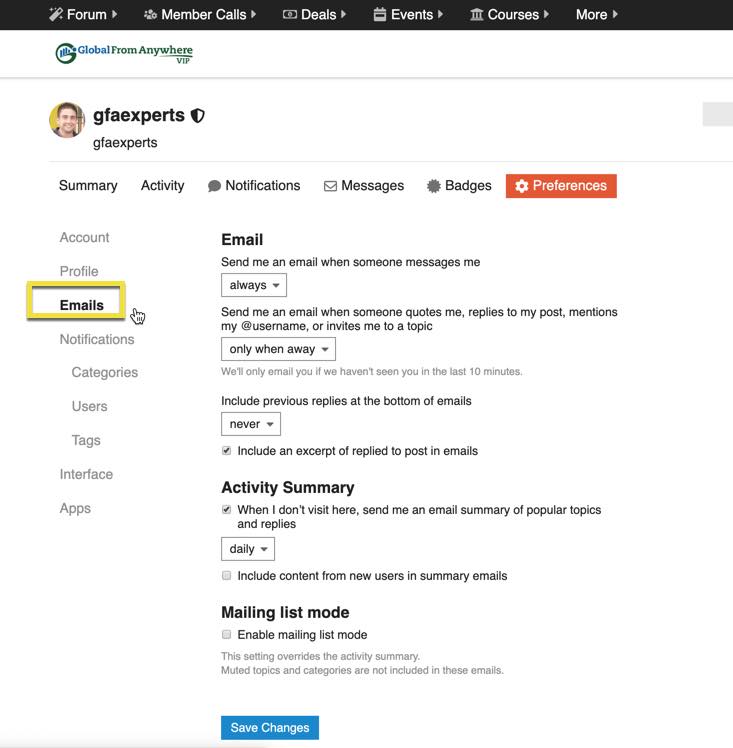 PART 2 of options – Click on Notifications